An air conditioning unit can mean the difference between a comfortable working environment and one that's less productive due to adverse heat conditions. As the UK continues to experience record temperatures, installing air-conditioning units in your office is becoming increasingly normal.
In this guide, we're going to look at the various air conditioning types and what you need to think about before choosing an air conditioning unit.
Tips For Choosing Your Air Conditioning Unit
When choosing the right AC unit, consider the following factors:
Calculate the cooling capacity of a unit needed to cool down a particular room (described in BTU – see image 1 above)
Look at extra features, such as night modes, remote control, timers, app access
Any building restrictions that may not allow you to install an external condenser
Wall and floor-mounted split systems are good for small offices, as opposed to window types, as the former are quieter and have more functions
Air conditioners with heat pumps can give you the best of both worlds, reducing the need for boilers
If you are renting an office, mobile or easy-fit split air conditioners can fit your location
Monoblock Air Conditioners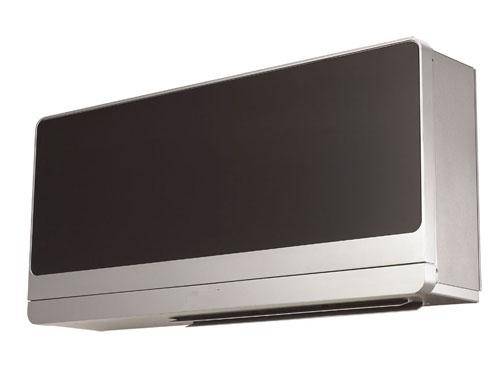 Monoblock air-cons are installed indoors with an air pipe (typically attached through the wall) to disperse the heat outside.
On the one hand, units that fall under this category are relatively cheaper, easier to install, and can be moved from room to room.
On the other hand, portable air-cons are not as efficient in cooling as split-types, often leaking heat back into the room. Some units can also be too heavy for you to lift.
Window – One of the most common units around the world, window air-cons can either cool down rooms (at its most basic features) or have a heat pump installed (the more expensive ones). This type is, however, generally not used in Europe.
Portable/Mobile – With no mounting required, this air-con unit can be cheaper and easier to install. It comes with a flexible air pipe that can then be attached to a window or through a hole in the wall. However, given its design, these units have limited cooling capacities (approx. 9,000 to 12,000 BTU) and can be noisy.
Wall mounted – Perfect for older buildings with planning restrictions, wall-mounted air-cons can be installed on the wall, with two air pipes attached through the wall to disperse the heat outside. These are, however, larger than split-types, since the same unit also houses the condenser.
Floor mounted – Floor-mounted air-cons share similarities with storage heaters in terms of appearance, size, and installation. This type has a heat pump feature, allowing it to also be functional during autumn and winter. Two air pipes are attached through the wall for heat dispersion.
Spot coolers (industrial mobiles) – Designed for heavy-duty use, spot coolers are large and mobile monoblock air-cons that can provide cooling to internal air and industrial processes (e.g. on ships or aircrafts). These units can withstand the warm outdoors, providing cool air to rooms that they are not physically in via numerous snout pipes.
Split-System Air Conditioners
Split-unit air conditioners are composed of an indoor unit (housing the evaporator and fan) and an outdoor unit (housing the compressor, condenser, and expansion valve). These two units are then connected by electric cable and copper pipes, with a remote control to keep room temperature within one to two degrees of the desired setting.
If your office gets very hot, split-types can be advantageous to you. You won't need to open your windows to cool down your room. Given that it's more powerful than monoblock units, it's also more efficient and quieter.
However, these units tend to be more expensive, and installation would require a professional.
Duct mounted – Also called central air-conditioning units, these are perfect for buildings with ducted air system, as it can cool down numerous rooms. These are also usually hidden in the ceiling, allowing to circulate cool air or blend fresh air with cool air.
Floor mounted – There are two types of floor-mounted split air-cons. On the one hand, column air-conditioners can cool down larger rooms with designs restricting the installation of smaller units. Typically going up to 45,000 BTU, this unit can cool down lobbies or waiting areas, thanks to its tall, upright dimensions.
On the other hand, a cabinet air conditioner that typically reaches 15,000 BTU can be installed in conservatories and extensions. Both types need bespoke pipework and cabling, depending on the building's structure.
Ceiling cassette – Be it a cartridge air conditioner or an under ceiling air conditioner, both these subtypes are designed for aesthetic purposes as they are installed on the ceiling and away from eye level.
The difference is that cassette types can deliver cool air in four directions (equivalent to 3 to 4 wall mounted units), while under ceiling types can discharge cool air horizontally (saving occupants from directly being blasted with cool air).
Portable or mobile – As opposed to its monoblock counterpart, the portable split-type air-cons can go up to 16,000 BTU capacity, allowing to cool down bigger rooms more efficiently. Given its design, it can be moved and set up in different rooms; however, the outdoor unit requires an umbilical cord to connect with the indoor unit, thereby limiting its mobility.
Wall mounted (engineer fit) – Typically installed at a high level, wall-mounted split types have a wide variety of capacities (e.g. timer, remote control), functionalities (e.g. heat pump, air purification), and aesthetics. However, the installation needs to be tailor-fitted to the building, which then increases its installation fees. There is no interconnecting pipes between the indoor and outdoor units.
Wall mounted (easy fit) – As opposed to the engineer fit, easy fit types have interconnecting pipes for its indoor and outdoor units. While these can be installed by electricians or DIY-ers, regulations now require refrigeration engineers to fit this type of air-con.
Multi-Split Air Conditioning
Multi-split air conditioning systems, as opposed to split types, have multiple indoor units attached to one outdoor unit.
Given its design, the external unit requires a more powerful and larger condenser. It can, however, run different types of indoor units (e.g. wall mounted, ceiling cassette, etc) at the same time.
This system is great for buildings that do not allow a ducted air conditioning system. You also have the flexibility to pick the right indoor unit that would fit each area, giving you temperature control on a room-by-room basis. This then ensures that you're not wasting power and potentially reducing your costs.
However, if the outdoor unit breaks down, all indoor units follow. You can opt to have multiple outdoor units so you won't run the risk of this happening, but do know that it will require higher installation fees and maintenance costs.
Pick The Right Unit
Investing in an air conditioning system is a big purchasing decision so it's important to get it right, as it's very difficult to change your mind later on. Picking the wrong unit for the space it's being installed in will decrease its cooling efficiency, resulting in increased energy use and higher costs for you. It is for this reason that you should trust a professional in choosing and installing your air-conditioning system.
Call us on 0117 322 6150 or 0788 04 99 457 or email us at info@invictus-mech.co.uk. Our team of professional air conditioning and heat pump engineers will give you advice on which unit to choose and install it according to your needs.